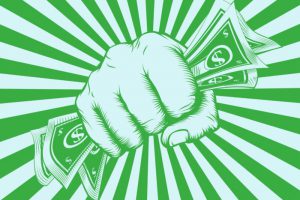 The 2018 State of the CIO report finds, after years of discord, IT and business are finally learning how to effectively work together to drive strategic initiatives and accomplish shared goals. To meet these goals and continue to innovate, savvy IT leaders must carefully decide which tech investments to make to drive innovation, increase market share, develop and deploy new solutions and meet customer needs.
But where are IT leaders investing to receive the biggest bang for their investment buck? Based on results from our 2018 State of the CIO report, here's what 738 CIOs, CTOs, CEOs, heads of IT and other executives say are their top business priorities and the technology they'll be investing in to bring those initiatives to fruition this year.
Operational efficiency, customer experience top of mind
Time is money, and increasing operational efficiency can make sure that neither time nor money is wasted. It's the most important business priority for 39 percent of respondents in 2018, according to the research. To achieve efficiencies, 35 percent of respondents say they'll direct technology spend toward enterprise applications such as CRM, ERP and solutions to improve marketing, as Sherri Douville, CEO of Medigram, is doing.
"We're going to be using Salesforce more to track the effectiveness of our campaigns, and we're also using next-generation marketing solutions to help reach our target markets more effectively," Douville says.
CRM technology is also being leveraged to improve customer experience, which 38 percent of respondents say is an important business priority, with 19 percent of respondents investing in technology that specifically addresses customer experience.
Part of improving customer experiences could involve increasing investment in mobile application development to better address customer needs. According to 11 percent of respondents, mobile application development is an area where they'll direct significant technology spending this year.
Analytics, automation on the rise
Thirty-three percent of respondents will invest in business and data analytics to help identify and analyze insights that can lead to greater efficiency, improve customer experience and grow the business, the research shows. In addition, 11 percent of respondents will direct technology spend toward enterprise management software and automation tools, according to the survey.
The cybersecurity and compliance imperative
Cybersecurity is also of utmost importance; 31 percent of respondents say it's a major business initiative for 2018, and 28 percent say it's driving a significant portion of their technology spend this year.
"Cybersecurity should always be the No. 1 priority," says Person-Ashforth. "I see it a lot that clients don't want to address these issues until there's been a breach, but that's the wrong way to think about it. You've already had a breach — it's about whether you've noticed it or not. You have to be proactive about security and risk, which is an area that organizations can always improve on."
Meeting compliance requirements, such as GDPR, goes hand-in-hand with security-focused initiatives; 19 percent of respondents say this has been a major business initiative for 2018, according to the research, and it's an area where organizations can't afford to play catchup, says Person-Ashforth.
"To be proactive about compliance and security regulations like GDPR, I try to stay abreast of what the Europeans are doing," she says. "They're ahead of the game as far as regulations like GDPR, and I encourage my clients to keep up so they're mitigating the risks."
Transformation initiatives
Transforming existing business processes, improving profitability, and optimizing worker productivity are also major priorities for 2018, with 30 percent, 23 percent and 20 percent of respondents, respectively, citing these as important business initiatives this year. To accomplish these goals, 28 percent of respondents will continue investment in cloud computing, 22 percent will direct spending toward application modernization/legacy infrastructure migration, and 12 percent of respondents will focus on infrastructure consolidation/virtualization.
"I've been deploying to the cloud since 2013, and it's been a great way to streamline operations," says Melissa Person-Ashforth, CEO of Melissa International. "I'm not surprised that it continues to be a major area of investment this year."
Also under the heading of transformation, introducing new digital revenue streams and enhancing/enabling new product development are priorities for 17 percent of respondents, and growing the business is a priority for 11 percent of respondents. Transforming and adapting to a new digital economy has been an imperative for the past few years and shows no signs of slowing down in 2018, Person-Ashforth says.
"So many companies don't look at technology as an asset; they need to be looking at technology and IT as a major enabler of the business," she says. "If larger companies don't transform and adapt, using technology to do so, they're going to be out of business. I think that's what's driving much of today's technology and IT priorities."
——www.cio.com