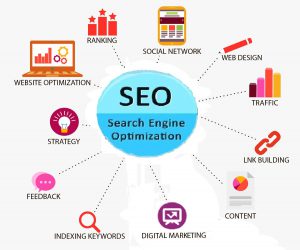 Where do you begin?
      Internet Marketing Strategy Development:  ITC can develop a customized strategy designed to attract targeted visitors to your site, generate qualified leads and increase your customer base. We perform a marketing audit to determine where you stand now, recommend action for the future, and assist in the implementing and evaluating processes.
How do you increase targeted traffic to your Web site?
      Advertising Management:  ITC coordinates online advertising promotions – from planning the concept, to buying the placement, to execution, tracking and reporting results. We have a unique, proven tracking methodology that enables us to measure and evaluate the effectiveness of your campaign, and helps you determine the strategies that provide the most impact and return for your investment. We can also work closely with your marketing department or advertising agency to integrate online promotions with offline marketing activities.
How can you increase your site's link popularity?
     Strategic Link Placement:  ITC will identify and evaluate relevant Web sites for listing your company's products or services, including additional search engines and directories appropriate for your industries and target markets. Many search engines consider the number of links to a site when determining ranking, meaning the more pointers to your site, the better your chances of achieving high search engine positioning.
How can you improve your site's positions on search engines?
     Search Engine Placement and Optimization:  ITC can determine your most important keyword phrases and then make recommendations to optimize positioning for your site across the major search services. We can also provide monthly monitoring with our solution to pinpoint trouble spots and deliver recommendations for improvement.
How can you maximize site traffic?
     Site Usage Reporting & Analysis:  ITC begins by running a benchmark Site Usage Report to determine where users are going on your site, how they are getting there, and who they are. The level of detail in these reports can be overwhelming, so we deliver an Executive Summary Analysis of this information to help you better understand the business implications behind the numbers. Our solution includes a monthly analysis that informs you of visitor traffic trends over time, as well as quarterly or biannual reports.
What are your competitors doing online?
     Research:  ITC can conduct an analysis of the Best Practices for Web sites in your industry. We can also monitor news and discussion groups in your industry for individuals that are looking for or talking about your specific products or services, so that you can respond in a timely manner.
Services

Basic

Preimum

No. of Keywords/phrases

5

10

Keyword Analysis

√

√

Baseline Ranking Check

√

√

Duplicate Content Check

√

√

Google Penalty Check

√

√

Meta tag, Header Tag, ALT, Title

Tag Optimization

√

√

Existing Content Optimization

√

√

Positive Reviews On Google

√

√

Correspond & Answer Customer Complaints

√

Q&A Customer & Management Team

√

Image Optimization

√

Robots.txt Creation & Analysis

√

XML Sitemap Creation & Analysis

√

Navigation Analysis & Recommendations

√